Bitcoin is having one of its volatile episodes again. In the past week, after failing to break the resistance of $10,000, it started a downside ride and plummeted to $8,675. Skew.com recorded a total liquidation of $18M for long contracts within just one hour on May 25.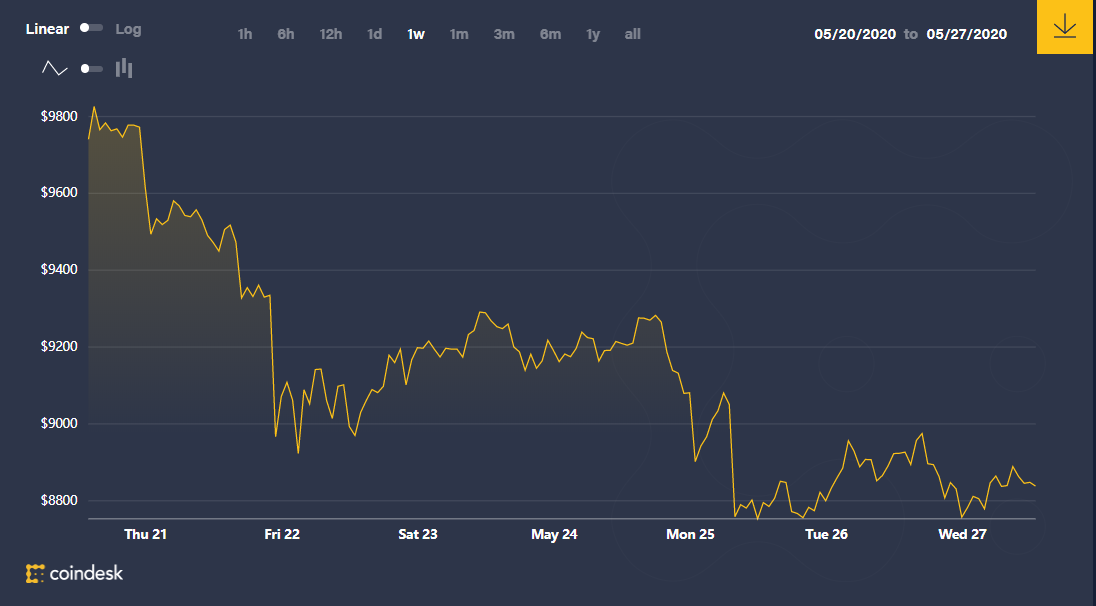 In the short-term, analysts are holding bearish mood towards Bitcoin's performance, as some major indicators all point to the bearish territory. Currently, there is an imbalance of long and short contracts in the market, with the longs taking about 71% of the total contracts. This shows that the liquidity of the Bitcoin market is rather high, which present opportunities to Bitcoin whales to buy in and further drive up the volatility of the market.

Bitcoin has already suffered two long squeezes lately, and many analysts believe the pressure for another long squeeze is building.
How to Take Advantage of the Volatility
High volatility is a constant of Bitcoin since its birth, and it is not going away in the foreseeable future. In fact, while high volatility can make traders lose a large sum of money within a few hours, it is also high volatility that help them multiply their investments in a short time. So how do we make the most of it and generate more BTC? The answer is very simple: leveraged trading.
In leveraged trading, every fluctuation is an opportunity to generate profit. It's perfectly normal for traders to achieve 100% ROI or more.
Lets's see how:
Step 1: the current price of BTC is $9,000. If you believe the price is going to drop, you can open a short position with 0.01 BTC. Now, 0.01 BTC may not seem much, but with 100x leverage, you can open a contract worth 1 BTC.
Step 2: When the price of BTC drops 500 points to $8,500, you close the position.
Profit: ($9000-$8500)*1 BTC/$8500=0.059 BTC.
ROI: 0.059/0.01*100%=590%
Leveraged trading is a mature derivative in the crypto market. Established in 2017 and headquartered in Hong Kong, Bexplus is a leading crypto derivatives trading platform offering 100x leverage futures trading on BTC, ETH, LTC, EOS, XRP and etc.
Bexplus' Analysis Director Justin Kwok is a crypto veteran with rich experience in different derivatives. In a recent talk, he commented that " … normally traders would do their homework before investing in Bitcoin, so they already accepted that bitcoin trading has its own risks. The more volatile the market is, the more possible [for traders] to take profit. Still, traders should be careful with their trades and avoid liquidation. "
Trade Smart with Bexplus
Tip 1: thorough preparation makes its own luck.
Favored by beginners, Bexplus has specially offered a demo account for every user. Upon registration, users will be given an actual trading account and a demo account, so they don't have to make a request for the demo account. There are 10 replenishable BTC in the demo account for traders to practice as much as they like.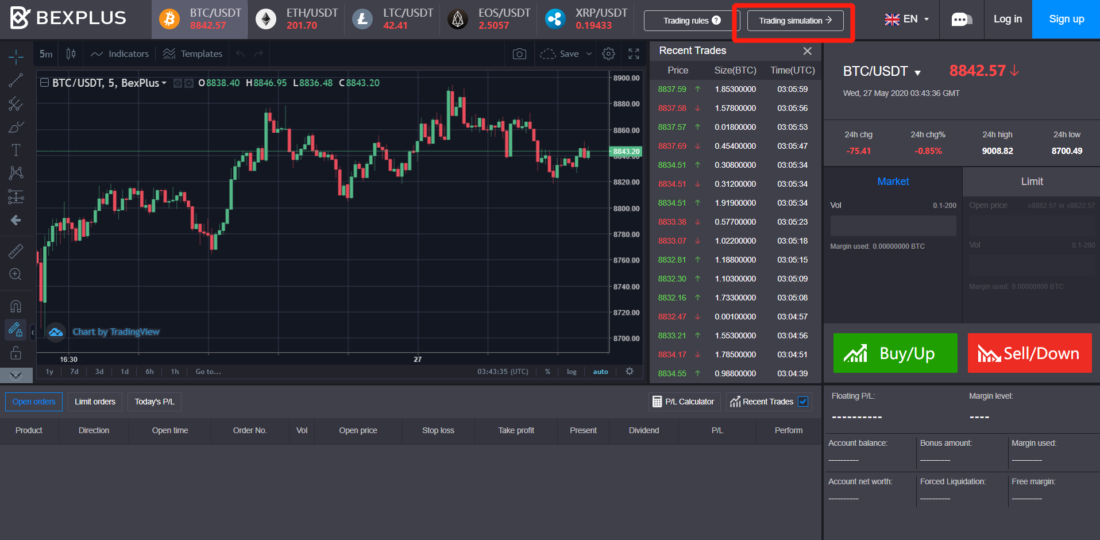 &
(simply click the "Trading Stimulation" bottom. The layouts and tool-kits of the two accounts are the same.)
The market of Bitcoin is changing very fast and it could be easy to get lost in all the numbers and indicators at the beginning, so a good demo account could serve as a sandbox to improve their skills without worrying about losses.
Tip 2: trade smartly with your smart-phone.
Nowadays, smart-phone is a daily necessity and mobile applications have developed so fast that many of them are as full-featured as their desktop counterparts while being far more convenient.
Bexplus mobile app rank in the Top 5 of keyword search results related to bitcoin trading in 56 countries in App Annie. At first glance, the interface is quite simple and intuitive, but it covers all the necessary tools (real-time charts, a variety of indicators, news alerts and etc.) and information for traders to keep abreast of the market.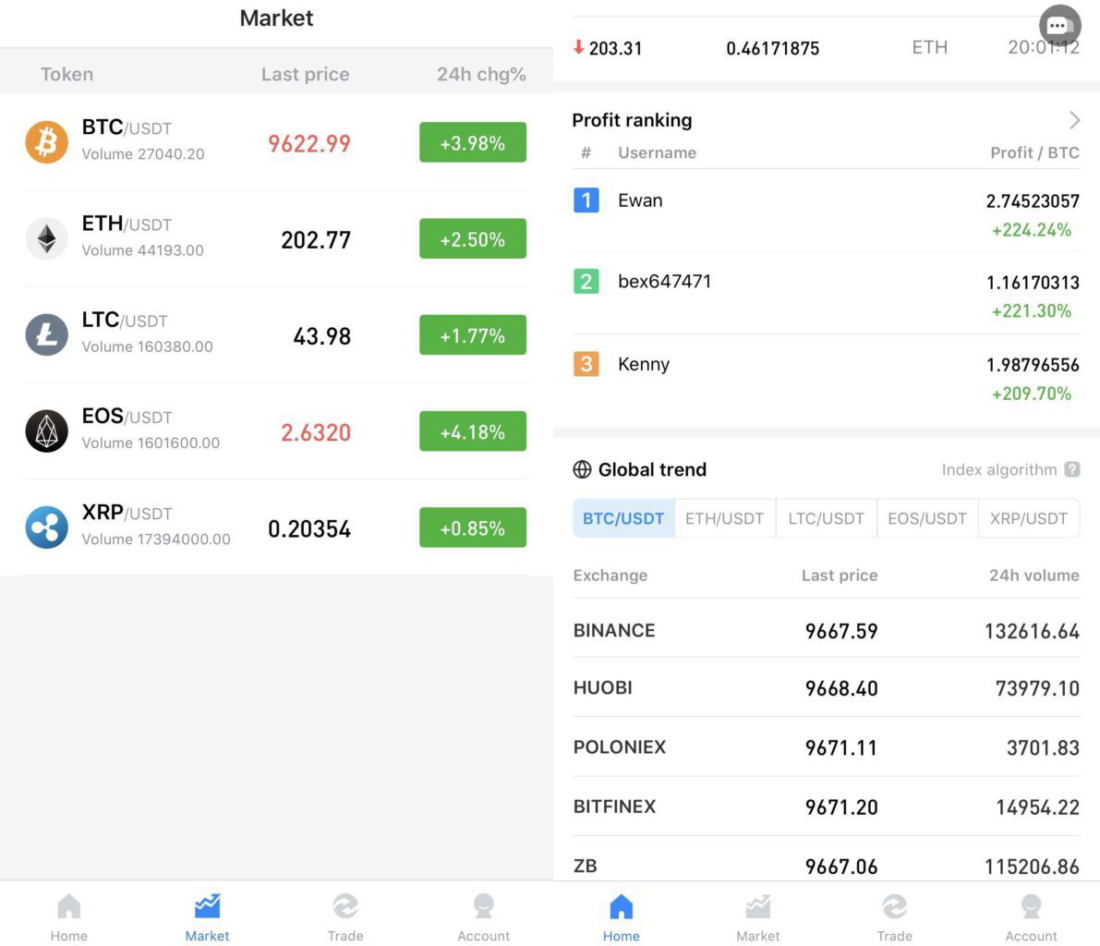 Another useful function is the real-time notification that helps users monitor the market fluctuation 24/7. This could keep you updated while taking your mind off the stress temporarily. In such a volatile market, this could very well be the life-saver of your funds. Besides, all data and assets can be accessed through all kinds of devices including Windows, Macbook, Android phones, iPhones, and tablets. Bexplus app is available on Apple App Store and Google Play.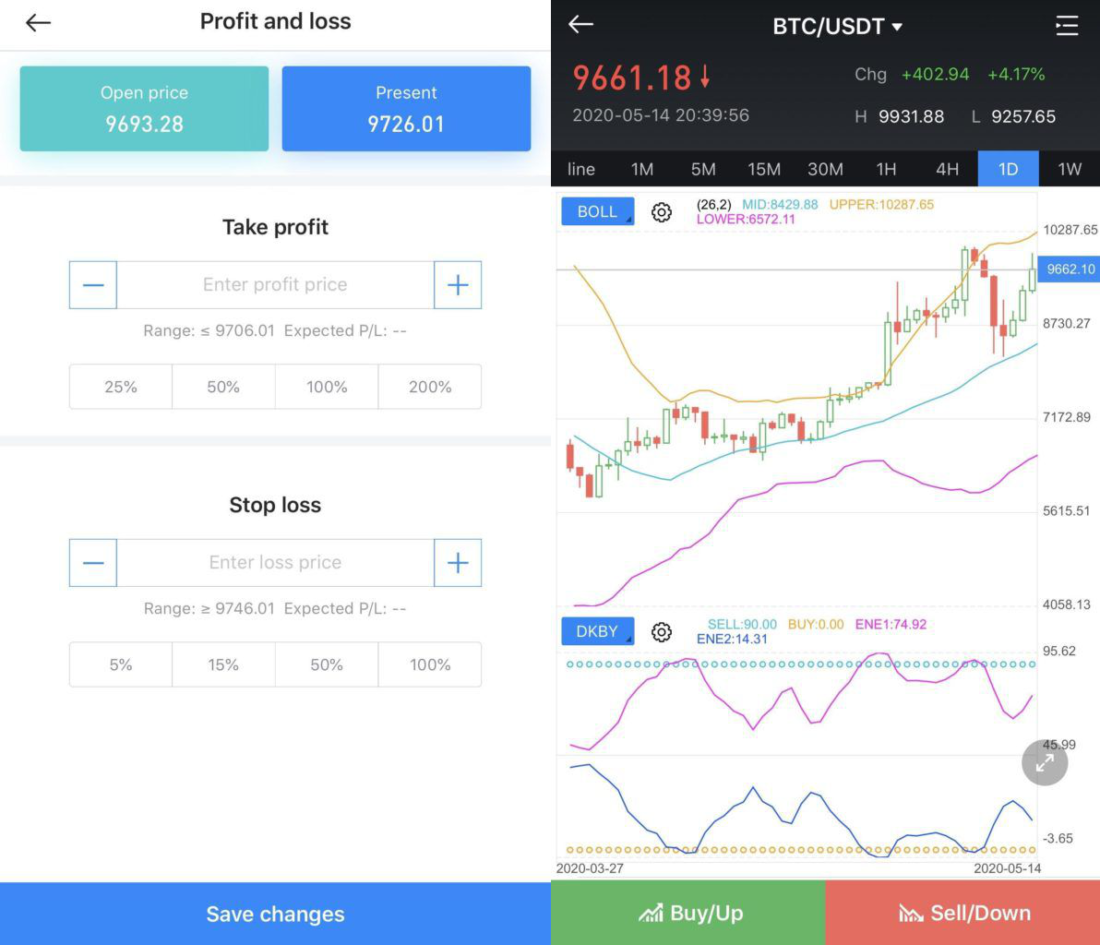 &
Tip 3: don't let emotions get the best of you, keep a stop-loss.
Since Bitcoin trades around the clock and it is impossible for us to monitor the market all the time, be sure to make good use of the stop-loss option that can help you lower the risks. Once the market price reaches the pre-set triggered price, your positions will be automatically closed and trade with the optimal market price available at that time.  Besides, Bexplus is one of the few platforms using cross margin, which means that margin is shared among all the user's positions. Compare with isolated margin, cross margin can keep traders' positions open for a longer period, thus reducing the risk of liquidation.
To help traders generate more profits in the volatile market, Bexplus now offers a 100% deposit bonus. If you deposit 1 BTC, 2 BTC will be credited to your account, and the profits gained with the bonus are withdrawable. Furthermore, active users can get a 10% off transaction fee.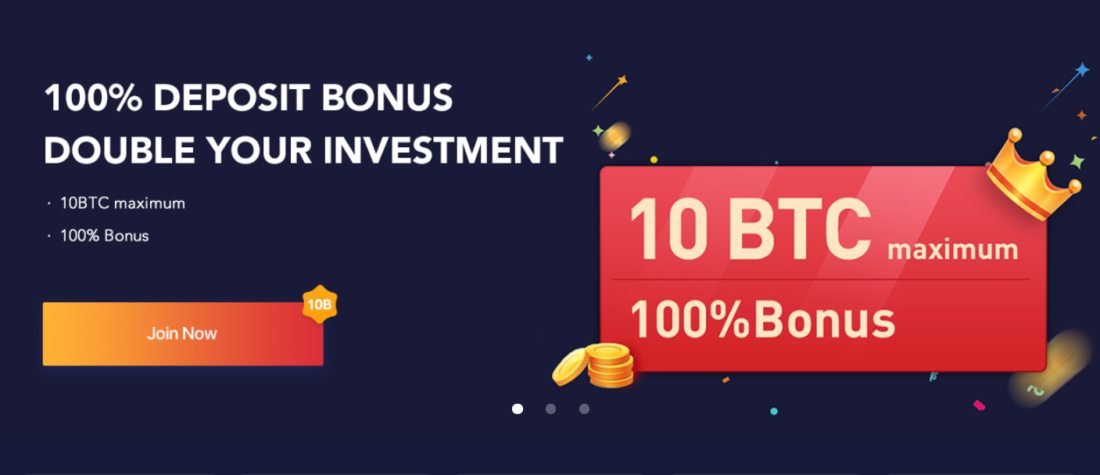 No KYC requirements are needed, you only need to verify your email then you could start trading within a few minutes. Join now and claim your bonus!
No KYC requirement
Replenishable demo account with 10 BTC
100% bonus for every deposit and 10% off transaction fee
Affiliate program with up to 50% commission reward
24/7 customer support
Follow Bexplus on:
Website: https://www.bexplus.com/
Telegram: https://t.me/bexplusexchange
Apple App Store: https://itunes.apple.com/app/id1442189260?mt=8
Google Play: https://play.google.com/store/apps/details?id=com.lingxi.bexplus
Image by Sergei Tokmakov from Pixabay
The post $18M Evaporates on Bitcoin Futures Exchange - An Opportunity You Don't Wanna Miss appeared first on Live Bitcoin News.