The past few weeks have seen Ethereum's decentralized finance ecosystem explode. Due to a series of events, such as a search for yield, the launch of Compound's COMP, amongst other trends, DeFi has seen an uptick of users.
Data shows that even some Bitcoin holders are wanting in on the DeFi craze, tokenizing their coins to get a foot in a door. But this is a controversial trend sparking responses from many corners of the crypto community.
What is tokenized Bitcoin?
Up until recently, DeFi has involved ETH, and ETH only.
This is largely due to how blockchains work: because most DeFi applications are based on the Ethereum blockchain, users and developers can only leverage assets based on that network.
This has meant that Bitcoin — largely regarded as the "reserve asset" of the cryptocurrency market — has mostly been not a part of the DeFi equation. 
Hence, developers have begun to create ways to "tokenize" one's BTC. This means one can have a token representing their BTC on Ethereum or on other chains, allowing Bitcoin to be integrated into DeFi.
There are projects like Wrapped Bitcoin, tBTC, imBTC, among others, doing this.
Between the different tokenized BTC projects, there is now $100 million worth of the cryptocurrency based on Ethereum. This is a growth of over 100 times in just over 18 months, with Bitcoin holders being enticed to tokenize their BTC due to the yields they can earn by participating in DeFi.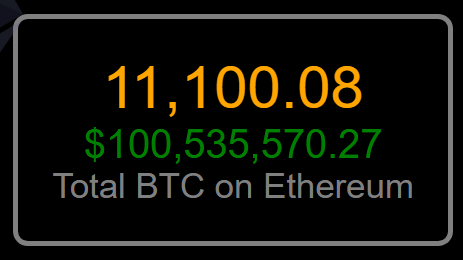 Ethereum proponents: it's bearish for BTC
Ethereum proponents say that this trend is bearish for BTC and the underlying network.
The co-founder of EthHub, Anthony Sassano released a four-part thread speculating on this.
1/ There is now $100 million worth of BTC tokenized on Ethereum.

This is bearish for BTC and Bitcoin.

(thread) pic.twitter.com/L7R165a32t

— Anthony Sassano | sassal.eth